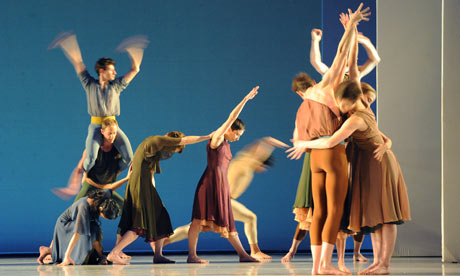 Maybe you're like this too: despite being a playwright, some of the most indelible experiences I've had as an audience member have been at theatrical events that were not classified as plays. Some of the first that come to mind are Cirque du Soleil's
O
; Penn and Teller, for my money still the best and funniest theatrical experience available almost nightly on this planet; William Forsythe's
Eidos: Telos
and his
Quintett;
and Jerome Robbins's
Afternoon of a Faun
and
West Side Story Suite.
But this list must be topped by Mark Morris's legendary evening-length dance work,
L'Allegro, il Penseroso ed il Moderato.
Set to a ravishing, rarely-heard work by (G.F.) Handel, it epitomizes Mr. Morris's twin projects: the re-tying of dance to music (and theatre — he speaks of Wagner's
Gesamtkunstwerk
or total artwork); and the pursuit of beauty.
Total artwork means collaboration, and
L'Allegro
is the interweaving of many artists: an extraordinary trio of designers, whose flow of colored scrims, light, and fabric are as much a part of the dance as the Mark Morris Dance Group's athletic bodies and the singers and musicians in the pit.
You should see this work at least once in your life.
It's playing this weekend at Lincoln Center's Mostly Mozart Festival.